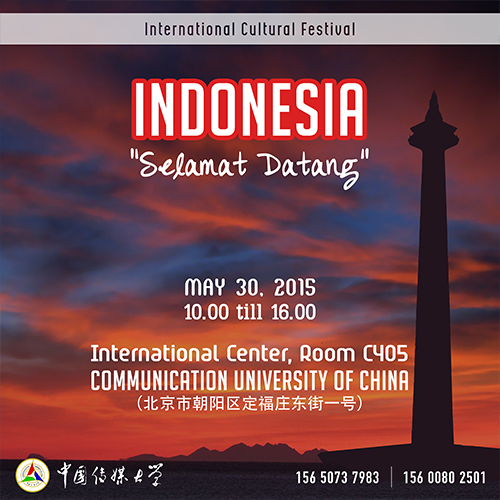 Hi Permiters!
International Culture Festival is coming to CUC!
(Communication University of China)
Saturday (May 30, 2015) from 10am to 4pm at International Centre Room C405 (国际交流中心-老国交)
Come & visit Indonesian's BOOTH to experience the beauty of Indonesia and you'll also get a taste of Indomie (One of the Indonesian famous food) and of course other delicious Indonesian foods!
P.S: There will be a special offer for airline tickets from Beijing to Indonesia! Of course special for you, students!
Bring along your USB Flashdrive cause we will give you FREE selected Indonesian movies!
SELAMAT DATANG!
For more information, contact:
Jeannette 15650737983
Garin 15600802501
Salam PERMIT Beijing – PPIT Cabang Beijing.
www.permitbeijing.com